Telling Stories With Data: From Simplification to Persuasion and Reporting.
The Most Common Questions From Our Data Visualization Workshops.
We can run our Data Visualization Workshops anywhere in the world, and each session is started with a quick Q&A. This is to get an understanding of what our workshop participants want to get out of the session, and to create a focal point for the interactive exercises. It's a pretty good way to generate blog ideas for the marketing department!
In no particular order, this is the list of our most common questions from the March & April 2016 workshops.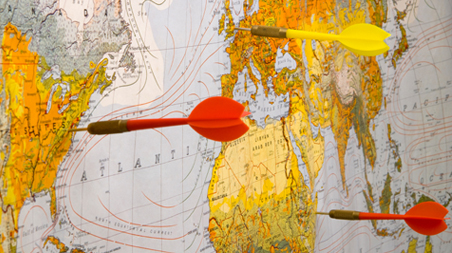 How Can We Make Data More Meaningful?
This question seems broad, but actually, it cuts right to the point of what we do in our workshops, and how we kick off the thinking behind each data visualization session.
Make your data more meaningful by culling it. Focus on something smaller, even at random. Like darts on a map – pick somewhere to start. Once you have a starting point, you have a focus. It's no longer a blank page, you've begun. Like anything in the creative cycle, it's unlikely to be the final product, but that's ideation for you.

How Do You Simplify Large Data Sets?
Once you have found a focus, follow this rule: most data is useless and irrelevant. The vast majority of the participants in our workshops (and clients for our dashboards etc.) have vast amounts of data. Somewhere in that data are answers, solutions, and potential awesomeness. The Problem is that it's massive, and this why people come to Datalabs – to learn how to extract it.
We tend to take the opposite approach. Tell us what you think? What do you like? Which customs do you want to deal with?
We'll design the dashboard module or chart then, find the data source to fit based on what will be useful, rather than a simple statement of what is.
The challenge here is that simplification isn't that simple! Simplification of data is a borderline data science and data visualization, with a little business analysis thrown in.
Our solution to those in the workshop, and we adopt for our own process, is lay it all out on paper. Draw your dashboards, workflows, questions, problems & solutions and present them within different iterations. Even if you've no idea just writing down simple, conversational questions works:
How many returning visitors abandoned the shopping cart?
What was their average time on site and on the page?
How many emails did we open this month compared to last month?
Then ask how they did this, and why. This approach to answering real business questions gets you further than anything else/
How Can I Produce Better Infographics?
Hire a professional… no, seriously. We've seen way too many crimes against data visualization conducted by the untrained…
In all seriousness, we follow this question up with one about 'format' – we often dedicate a whole section to data visualization and design formats. Specifically, what is an infographic to you?
We think of it as a flat, visual storyboard, with or without data associated. We find most people believe that infographics are a style – from reports with charts, dashboards, PowerPoint presentations, interactive apps/widgets, tools, etc.
Our advice is to focus on the message, the story, and what will make conveying that message simple.
It doesn't have to be complicated. It could be a chart and a small description. Or an infographic video. An interactive infographic data tool housed on your intranet. There are many ways to go!
Ask yourself:
Is it a simple story?
Is it clear, visually?
Will your audience love it?
If the answer is yes, then that's a good place to start.
What's The Story In My Data and How Do I Convey It?
"What I love – and I'm a journalist – and what I love is finding hidden patterns; I love being a data detective."
– David McCandless
Or, how do I find the story in my data? We think that there is not necessarily an inherent story in the data, but the data can form parts of the story; the beginning, middle, or end of a story, the conflict. You need to find it. Dig into it. Change it. We often start with Excel and pivot tables, filters or just some basic charts, just to see what pops out. The story is in the discovery and manipulation, rather than in the data itself.
Other tools, are Tableau, word cloud generators, data wrangling tools that can help you dive in and get your hands dirty.
If you stare at a spreadsheet waiting for answers to jump out at you, your story will probably be waiting for a long time.
How Do I Modernise Our Data Design?
There's a couple of ways. The first is to get the right person for the job and with the right tools. In our world, it's Adobe Illustrator, After Effects, Photoshop, etc., along with Tableau or Hicharts.
If you don't have those, there are a plethora of free tools, and more importantly, there are free resources to learn to use them.
If we had to give some practical advice –
Start monochromatically

Understand the basis of color theory for comparison/highlighting

Use negative space

Use the conventional method of written communication – i.e. left to right, comic book style, hierarchies
How Do I Present Data Upstream to Management or Executives?
Our dashboard design and prototyping sessions are predominantly focused on this. In those workshops we get two responses, one is: "The CEO wants this because that's what she always asks me about." and, "It's what she's concerned with."
The second person, answers: "This is the most important thing in my job, it's the best summary of what I need to know".
Most visualizations have a purpose, some are tools, others are reports, measurements, status updates. This about your audience first; decide what they need, want, and will engage with. Ask what makes their life easier. When we build dashboards or reports for the C-suite, ministers, executives, the one thing we focus most on is speed-to-understanding and simplicity.
The ability to dive into the data needs to be there, but primarily we build dashboards, create infographics, animate reports because people are time poor and need to get to the point quickly and accurately.
If you have any questions of your own on data visualization, feel free to reach out via social media.