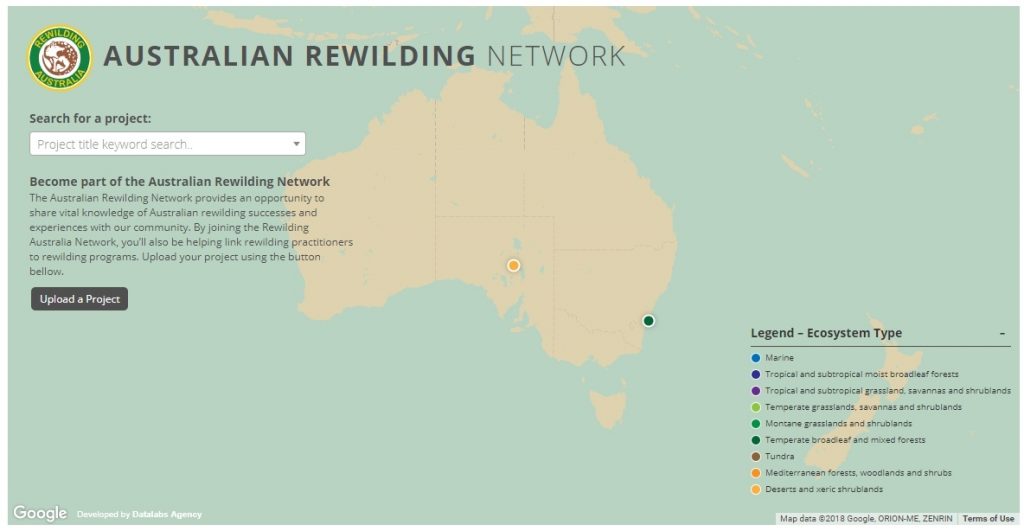 The interactive map is designed with d3 and Google Maps

Showcases the current projects the organisation is working on

Allows public to visualise, and interact with, their projects

Pulls data from Google API and a custom backend that allows the user to populate a 'project' that will appear on the map
Interactive map combined with data visualisation
Now a centrepiece of their website
Why:
If you've got a project that works with locations or maps, geo-mapping and geospatial data visualizations are the way to go. These may sound like fancy terms, but in essence what it really means is, interactive maps work.
Why? Because clients and their customers alike enjoy maps, and they like them even more if they can play around with them. This in turn means engagement with your brand or business. With a project like Rewilding Australia's, showing data with a map just made sense. Making it interactive made it fun, and together, it means increasing interaction with your website and the information you want to share with your audience.
How:
The map is interactive and the user can explore the region by the different projects (animal releases) by location. They can see the same data breakdown across the chosen region. The map uses customer PHP to intergrate with Google Maps API. The admin can then verify the project, check the details and approve the entry onto the map. We built this without a CMS due to time and budget constraints, instead opting for a webform that captured the data in a lightweight database could then populate the map. 
The Result:
With an interactive map now live on their website, Rewilding Australia has increased the amount of interactive media on their site tenfold, thus bringing their website into a whole new realm of web-interactivity. As well as being visually appealing, the project map also invites and encourages more engagement with visitors to the site, which in turn, means more page views, and hopefully, more help for the rewilding of native Australian animals across the country!
---
Maps help solve big, messy data problems! Check out our Map & Cartography page for more info. If your business or brand could use an interactive map, email us today:
---