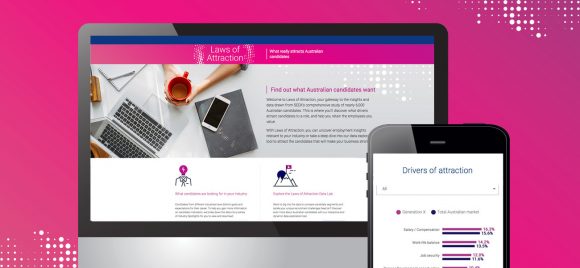 SEEK Laws of Attraction
Find out what Australian candidates really want
What attracts people to apply for a job or work for a company has changed. Where salary and job security once ruled, candidates are now seeking more.
For example, did you know that 72% of candidates working in Information & Communication Technology would like to have the option to work from home? Or that the number one driver for science and technology candidates is career progression?
To uncover what Australians really want, SEEK asked nearly 6,000 Australian candidates what they're looking for in their next role. From up-close, it's difficult to identify what attracts people to employers. But in taking a step back and looking at the whole picture, the data trends tell a story. And that's exactly why Laws of Attraction was created.
The data from SEEK's comprehensive study was analyzed to design an interactive microsite where you can discover what attracts a candidate to a business. With the click of a button, employers can explore what candidates in their industry really want.
Understanding the forces that attract people to a role and what it takes to keep them will give businesses the talent edge over their competition. Explore what the candidates are looking for with SEEK Laws of Attraction.