A Killer Microsite & Interactive Web Design Experience That Will Inspire You!
Microsite and interactive data tool that is the future of data design
If a good infographic tells a story, then an equally great interactive data visualization is an experience that allows the user to dive into the data to create their own experience, by getting to 'play' with the data, or going on a guided interactive journey.
For those that are curious, a microsite is a smaller or auxiliary website, often contained within another site, that exists for a single or targeted purpose. For example, sustainable annual reports (like the ones we make here) or to house a report like (this one we made for Finisia).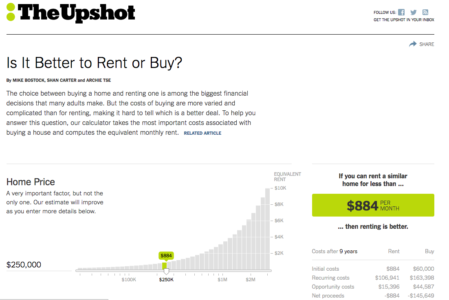 In no particular order, here are our favourite interactive microsites at the moment.
Rent or Buy? – New York Times
It's a simple data tool designed to allow the user to plug in relevant data about their circumstances, and calculate if it's better to rent or buy property according to their current and projected state. This one might not be the most visually impressive one on the list, it does take a lot of data and convey it very, very clearly within a simple and highly usable interface.
Looking for a microsite of your very own? Click here for our digital annual reports page