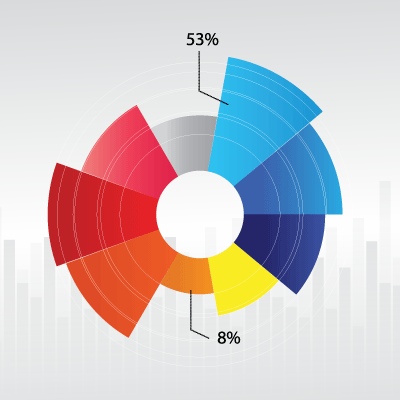 Infographics Are The Data Visualisation Gateway Drug.
…and yes, you can totally do better than Excel and Powerpoint Reports.
Are you being asked to do something new with reports and data? Something more engaging? Something that your customers will understand, love, share on social and engage with?
Is your boss looking for a more visual style? Something that actually looks like it's made in 2016?
This is a pretty good place to start.
Datalabs create infographics with data. That means better reporting internally and externally. Better communication of your message and an impressive visual design.
We can help you find your story, craft a narrative, find the data that works, the insight that is best and deliver that in a format that works in print, online, email and social.
We can even animate it, too. I know – wild, huh… but here's the thing – it works.
They get shared, engaged with, generate traffic and most importantly – they get read all the way through. 
You wouldn't be here if all of you reports were getting read, cover to cover, would you?
What You Get
Infographic reports – visual documents presenting data and insights quickly and clearly. This drives engagement for anyone trying to understand your dataset. Our infographic reports tell a simplified story while contextualising relationships, scale, distribution, and proportions in business data.
How Long Does It Take?
Depending on the length and complexity of data – 2-4 weeks, including drafting and revisions.
Who Uses Infographics?
Government Reporting
…because no one reads you 300-page submission.
Infographics or infographic reports are used to visually present a company's or government organisation's key ideas and insights. We  use basic principles of design to support the data making it far more easily accessible. And we won't do it in a boring way. Reports, metrics, KPIs will all look better visualised in an infographic.
Corporate Infographics
…because no one reads your 30-page deck.
Research Infographic Reports
…because, seriously,  you already know no one reads that cover to cover.
We design long-form research reports, market research reports, government submissions or annual reports in infographic style. The examples below are for an Australian university end of year summary report. Check out the full case study here.
Like What You See?

Be different
Don't just print out your metrics or construct your next PDF report like you've done every other year. Stand out and make it count by letting Datalabs design your data in an infographic format and provide your audience with an inspiring view of the key findings, 'ready-made', in collateral that can be used across presentations, business cases, stakeholder discussions and more.
Comparative Information Design
When drawing comparisons, infographics help organise similarities and differences that complement the information being presented. Comparisons can be difficult to express with words, sometimes to the point of being more confusing than revealing to the audience. But by presenting the same information in a neatly organised infographic, comparisons become much clearer.
Statistics & Numbers Overwhelm Audiences
… And then you end up losing half the significance. When organised into an infographic format, it becomes much easier to quickly draw meaning from data. The core purpose of an infographic is to simplify a complex idea, which makes them great educational tools, especially when presenting an overview of a topic instead of an in-depth analysis.
…And If You Still Need Some Suggestions:
Uses for Infographics
Research Report Reports
Internal Communications
Statistical Summaries
Product Launches
Social Media Content

Business Cases
Executive Briefings
Poll Results
Annual Reports
Financial Reports

Sales Collateral
Advertising Campaigns
Real Estate Maps
Content Marketing
Systems Visualisations