8 Incredible Examples of Interactive Data Visualisation
A Curated List of Data Visualisation Ideas That Inspire Us
An interactive experience blows away legacy methods like Excel and Powerpoint, software which companies, non-profits, and governments have relied on too long to communicate their data.
Interactive data visualization is not just beautiful, it's often the most engaging, memorable, and effective communication tool you can choose. Why? Because allowing your audience to take their own journey through the data empowers them to educate themselves. They're more likely to stay engaged and more likely to remember what they've learned.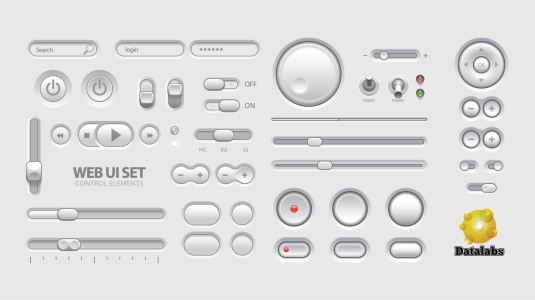 As leaps and bounds are made in software and web technologies, there is an ever-increasing number of applications for interactive data visualization — from presenting research results to crafting executive presentations.
We've curated a list of gold-standard interactive data visualizations which we hope will inspire you to try it for yourself. May your data never be boring.
Interactive Data-Driven Campaigns
The Pulitzer Centre launched the Roads Kill project to raise public awareness of the fact that as the number of cars around the world increases, the number of traffic fatalities does too. With 1.24 million road deaths every year, their innovative interactive data visualization helps engage and inform thousands of people about an issue we cannot afford to ignore.
Interactive Annual Reports
Mailchimp's Annual Report microsites have been generating admiration on blogs and social media for years. They're often pointed to as a model for how to do Annual Reports. The reason? They're masters at interactive data visualization. They don't try to hide the numbers out of fear of boring their audience, they show off their data with clever interactions and quirky imagery.
Interactive Visual Content for Media
When New York City rolled out its bike-sharing program, the New Yorker used live data, provided by Citi Bike, to map where people rode in the city for one month. The interactive visualization tells a fascinating story about how New Yorkers find new ways to navigate through the city as the month progresses.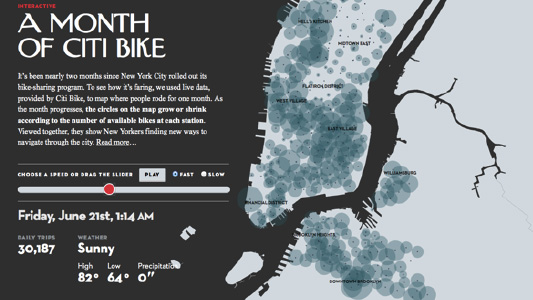 Based on available data from the Bureau of Alcohol, Tobacco, and Firearms, the Washington Post employed visual data analysis to create a rare snapshot of the concentration of confiscated weapons across the District County. In a city where gun violence regularly makes headlines, using data to tell this story has allowed the Post to cut through political rhetoric, and present the facts.
Interactive Executive Presentations
SAP Intouch Wall
The touchscreen wall installed in SAP's Executive Briefing Center has created an interactive and immersive meeting space. It allows executives to present a unique suite of case studies, customer stories, and product data to each client, all from the one interface.

Bloomberg: Industry Market Leaders
Powered by a massive database, Bloomberg's Industry Market Leaders tool is a great example of how interactive data visualization helps users extract value from financial data. The tool allows users to compare industries and market leaders, as well as drill down into key figures like market share and sales growth.
Interactive Polling Data
The annual Lowy Institute Poll is the leading independent survey of Australian attitudes to the rest of the world.  The institute has designed an incredible interactive tool to visualize ten years of data on key polling results. Results can be viewed, filtered, selected, and compared graphically, and exported to PDF for printing, dramatically increasing the public's access to important insights into Australian international policy.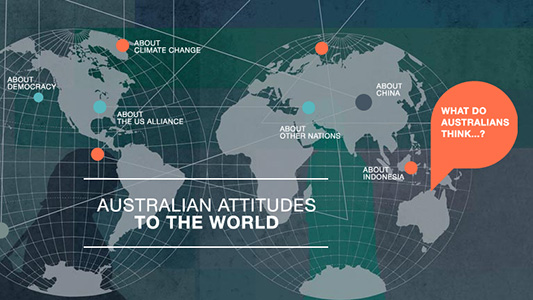 These examples are just the tip of the iceberg. Interactive data visualizations have the potential to transform how you communicate data across the board. Here are just a few of the other possibilities for this powerful communication tool:
Sales Presentations
Training Modules
Product Collateral
Educational Content
Press Releases and PR Content
Interested in your own interactive Annual Report and microsites? Find out more.
---
Talk to us about the incredible data visualizations we can make for you!
Get in touch with us directly by emailing hello@datalabsagency.com
or by clicking the Contact Us link in the navigation.
---