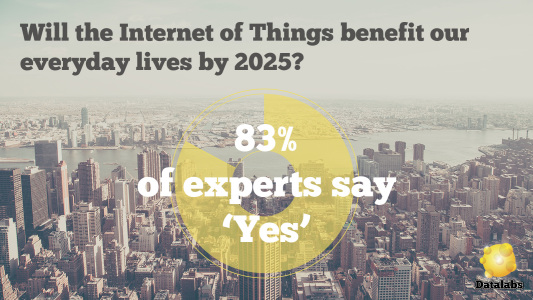 There's a lot of buzz right now about the 'internet of things',  the phenomenon connecting billions of devices and accessories to each other, via the internet.  One fascinating study by the Pew Research Center and Elon University asked over a thousand experts,
Will the Internet of Things have widespread and beneficial effects on the everyday lives of the public by 2025?
Eighty-three percent of these experts said "yes", 17% said "no".
If that answer intrigues you, the full study is well worth a read.
Most of our devices will be communicating on our behalf—they will be interacting with the physical and virtual worlds more than interacting with us. — Paul Saffo, managing director of Discern Analytics.
Many of the experts surveyed spend their working lives researching, analyzing, and theorizing about the future of the internet, and their insights and predictions are serious food for thought for anyone interested in the future of the internet.  Read the full study here.